The best hotels with unforgettable views in Hong Kong
Hong Kong spent more than 150 years under the rule of the Crown and became one of the most prominent and business focused places in the world. It it is one of the most densely populated places on the earth and is studded with skyscrapers as the city with largest number of skyscrapers of any city in the world. That creates an amazing cityscape for a city surrounded in a beautiful nature.
We choose the best hotels with unforgetable views in Hong Kong, which ads to your business trip, holiday or honeymoon a vista that worths it. Hotels are sorted by price and you can easily choose the outlook You want.
Enjoy Your time in Hong Kong!
Created nearly 90 years ago in the glamourous 1920's, the legendary "Grande Dame of the Far East" continues to set hotel standards worldwide, offering a blend of the best of Eastern and Western hospitality in an atmosphere of unmatched classical grandeu and timeless elegance. Be ready to be spoilt by the lavish spa facilities, distinct choices of culinary experiences and the Rolls-Royce transfer service and much more.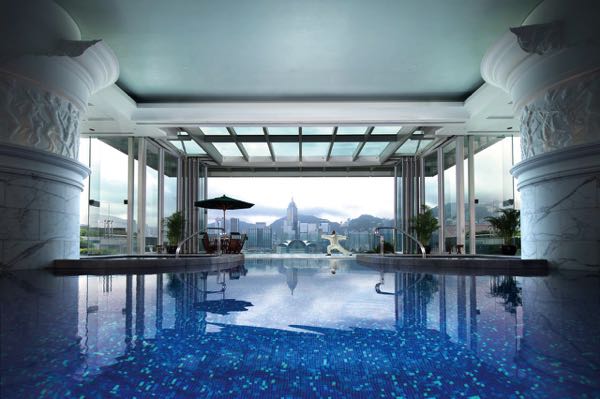 Sky-high luxurious rooms with free Wi-Fi are located on floors 102 to 118 of The Ritz-Carlton Hong Kong. Towering over Victoria Harbour, it boasts the highest bar in the world and 5 restaurants including 2 Michelin Star restaurants. Offering panoramic views of Victoria Harbour from its large windows.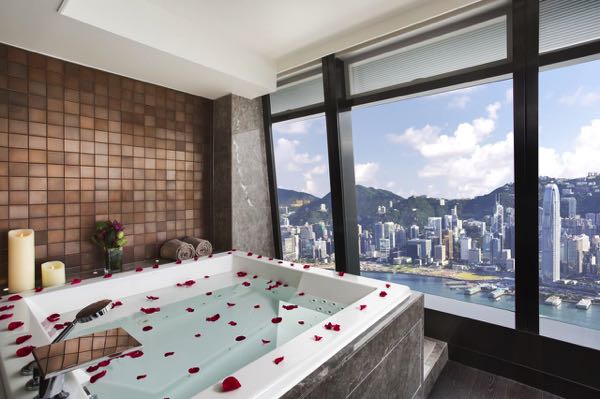 Hotel decoraited in oriental style is one of the best you can find when searching for hotel in Hong Kong. The hotel rooms start at 56th floor and among others offer beutiful views over the city and islands of Hong Kong. And when You get hungry, You can always get a snack in the Michelin star restaurant - Summer Palace Cantonese Restaurant.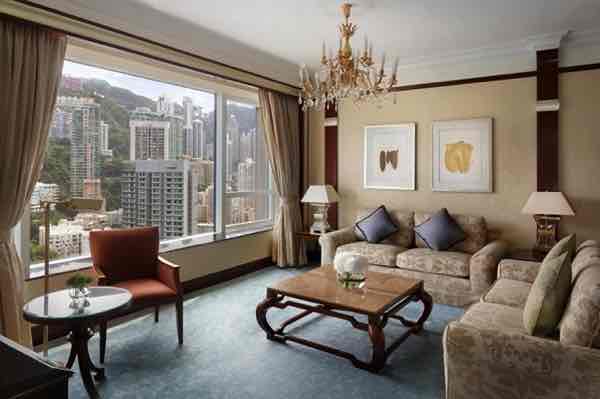 InterContinental Hong Kong is prized for its unrivalled views of Victoria Harbour and Hong Kong Island and its world-class restaurants - two Michelin stars Yan Toh Heen, RECH by Alain Ducasse, Japanese restaurant NOBU and The Steak House winebar + grill.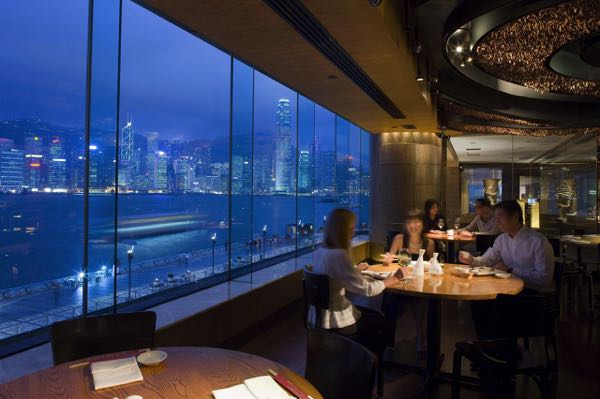 The perfect Hong Kong harbour view, delicious local and international cuisine, cocktails on the club floor, the ultimate rooms for comfort and style, heartfelt service, a stylish pool and spa floor, thoughtful details and all right in the heart of Tsim Sha Tsui.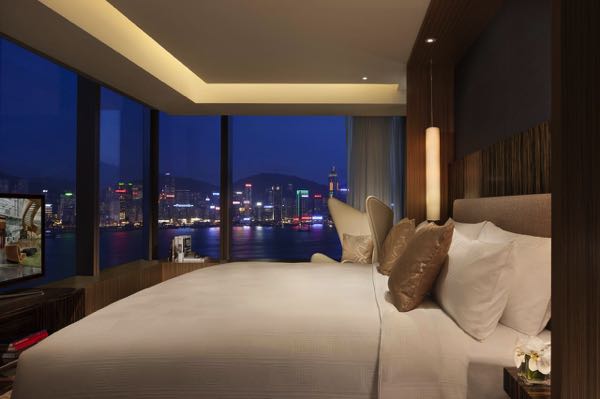 This ultra-stylish EAST Hong Kong hotel is located along Quarry Bay, just next to Tai Koo MTR Station. Rooms are linen with floor-to-ceiling glass windows, so you can be sure, that the oportunities of views from your room are squeezed to maximum. You can also take a dip in the outdoor pool or use the exercise equipment at Beast Fitness Centre.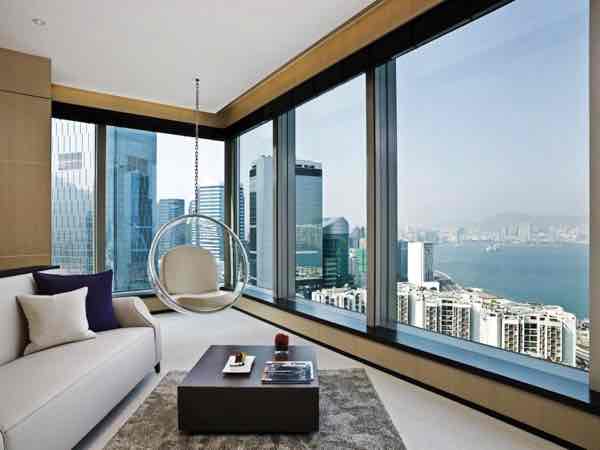 Metropark Causeway Bay offers convenient stays with large windows in every for an unforgetable stay overlooking scenic views of the city or Victoria harbour. During the summer days, you can spear some time in the rooftop pool with full scale harbour view and a hot tub.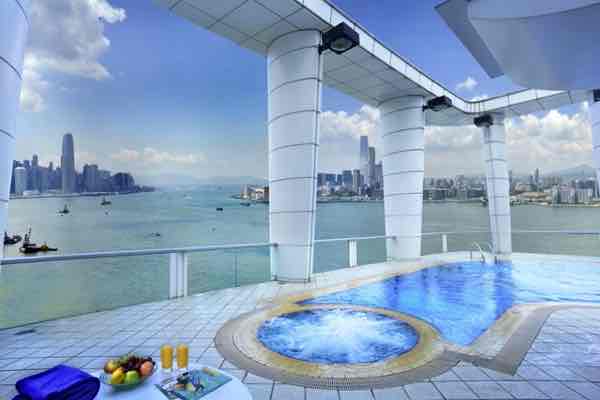 Just a 5-minute walk from Tsim Sha Tsui MTR Station, the unique Salisbury YMCA Hotel offers a rock climbing room, an indoor lap pool and 2 excellent dining options. The Salisbury-YMCA of Hong Kong is conveniently situated within the prime shopping and entertainment district of Tsim Sha Tsui. A 40-minute drive from Hong Kong International Airport, it is also a stroll from Nathan Road, the Waterfront Promenade and the historic Clock Tower. Rooms are bright with large windows. Select rooms offer spectacular views of Victoria Harbour and Hong Kong Island's skyline.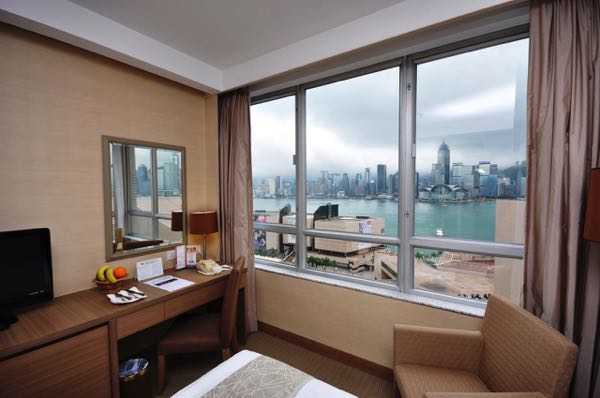 Hyatt Regency Hong Kong offers luxurious rooms and facilities such as a spa and outdoor swimming pool with sundeck. It is a 30-minute drive to Hong Kong International Airport. Guests can enjoy a range of therapies at the spa or keep fit with a game of tennis or exercising at the fitness centre. This Hong Kong hotel offers some amazing views over the harbour and near by mountains for a very convenient price.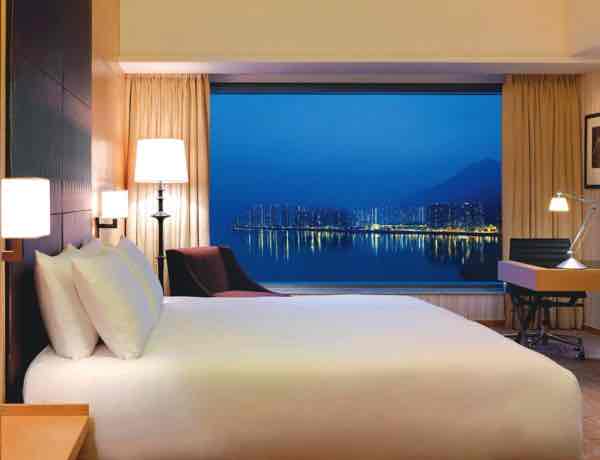 ---
Tips for viewholics in Hong Kong
Top natural viewpoints around Hong Kong
To get out of the city and breath some cleam air, You should definitely take the Tail Long Wan hiking trail, which will definitely let you forget about the hustle of the city. During the trail, you will be rewarded with amazing coastline views as well as watterfall and mountain overlook.
Another great option is to hike the Lantau Peak, which is the heighest natural point of Hong Kong. These views are amazing and for early birds which will hike before the sunrise it will be a delightful experience. You will have views over the Hong Kong bay, near by mountain as well as part of the city and sea.
Best Hong Kong outlooks in the city
The observation deck Sky 100 Hong Kong is situated on the 100th floor of the International Commerce Centre, known as ICC and it is one of the Hong Kong's tallest skyscrapers. Thanks to that, it offers incredible panoramic views of the city skyline.
But the most interesting viewpoint in the city is definitely the Sky Terrace 428 at The Peak Hong Kong. Located on the hills 396 meters above the sea it offers panoramic view over the city and awesome sight of Victoria Harbour.