Czech Republic
Most beautiful hotel views in Prague
Beautiful and absolutely magical Prague, with it's narrow streets and paved roads in Old Town ( Staré Město ), outstanding Charles Bridge connecting Old Town with Malá Strana and Prague Castle - according to the Guinness World Records, it's the largest ancient castle in the world. Take a breath and enjoy Prague as much as possible in one of amazing hotels with wonderful views over the city listed below.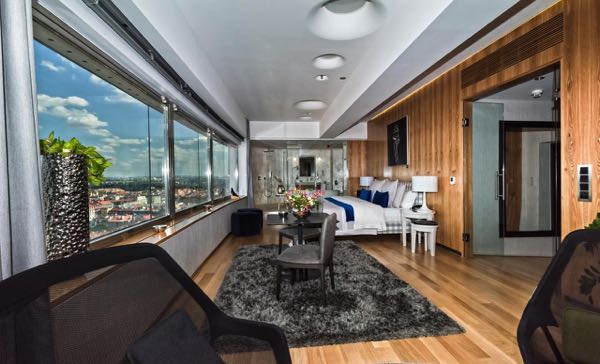 If you are looking for a unique hotel, you have just found it. Lay down in the spacious bed, relax in the comfortable bathroom. Observe Prague from a height of 70 meters and enjoy a faultless service. We are convinced that the night spent in our suite will be unforgettable for you.
Details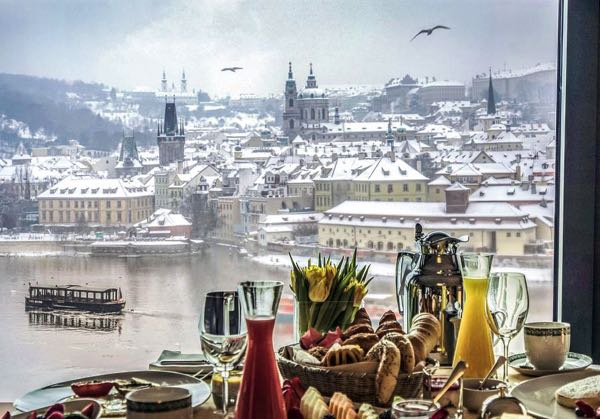 Set in Prague´s premium location – on the picturesque Vltava River, a stone throw away from the Charles Bridge, overlooking historic Prague Castle – Four Seasons service and comfort interweaves with Czech cultural traditional and centuries of architecture in this landmark of gracious design. 157 guest rooms including 19 suites are among the largest in Prague, many with unique city, castle and river views. Set in a historic neo-Classical building overlooking Prague Castle, AVA Spa at Four Seasons Hotel Prague is being designed in synergy with the Hotel's décor and is offering authentic spa and well being experiences. Based on water and mineral rich products, exclusive facial and body treatments with moor mud are enhanced with state-of-the-art traditional Czech inspired thermal baths menu. CottoCrudo, a modern Italian restaurant, bar and lounge in the chic urban setting showcases traditional and authentic Italian dishes with a modern touch.
Details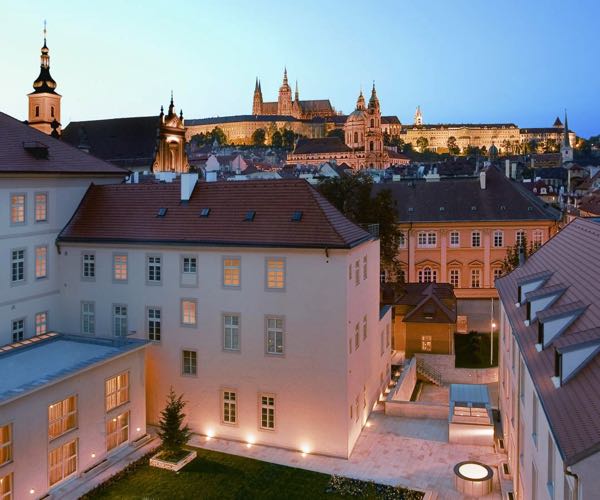 Mandarin Oriental Hotel Group is the award-winning owner and operator of some of the world's most prestigious hotels and resorts. The Group now operates, or has under development, 45 hotels representing 11,000 rooms in 28 countries, with 19 hotels in Asia, 13 in The Americas and 13 in Europe, Middle East and North Africa. Mandarin Oriental, Prague, opened in September 2006, is housed in a former monastery with roots dating back to the 14th century.
Details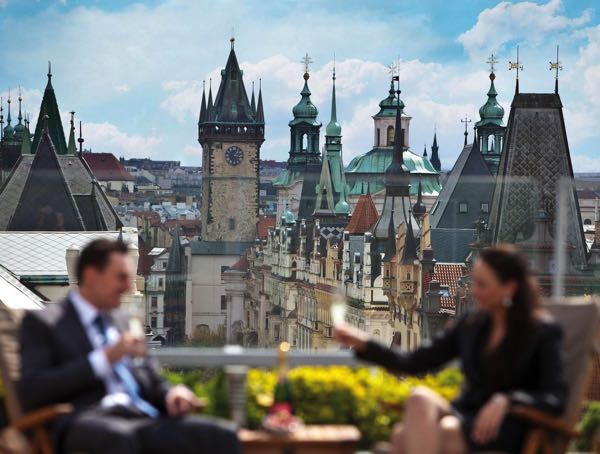 InterContinental Prague is a landmark hotel located on Parizska Street, by the banks of the Vltava River near the Old Town. Built between 1968 and 1974, it has 372 Rooms and Suites spread over eight floors. As Prague's first international top hotel, it regularly plays host to heads of state as well as stars from the music world and movie industry.
Details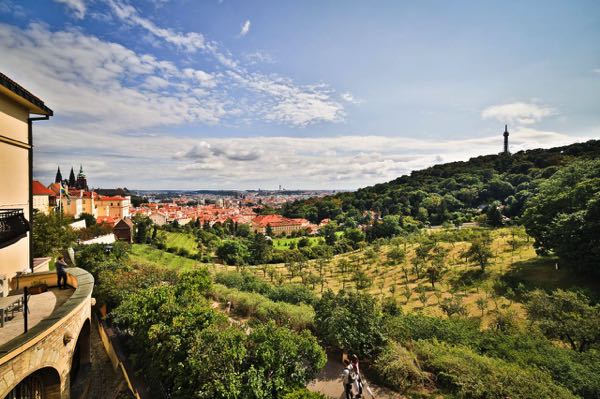 Location of Questenberk hotel is special for its breathtaking view on the entire city of Prague. The building of the hotel was built in 17th century and it served as a formal private palace to Sir Caspar Von Questenberg who was a German priest. The hotel is a part of the Strahov Monastery. Questenberk hotel Prague offers accommodation in 27 individually decorated and air-conditioned rooms. Each room has its own different charm and layout.
Details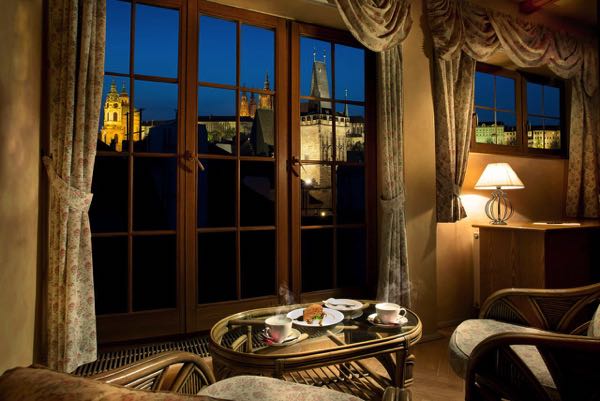 Hotel U Zlatych Nuzek (At th Golden Scissors) is located on the charming and quiet Kampa square of Mala Strana, in the historical center of Prague, just a few steps from the Charles Bridge. Within walking distance you will find all important cultural and historical sights such as Prague Castle, National Theatre, St. Nicholas Church, the Infant Jesus of Prague or the Old Town Square. The originally Renaissance building dating back from 1586 and converted into its current Classicist appearance under the guidance of Ignac Palliardi in 1804 (co-author of Lobkowitz Palace) is one of the oldest buildings on Kampa Island.
Details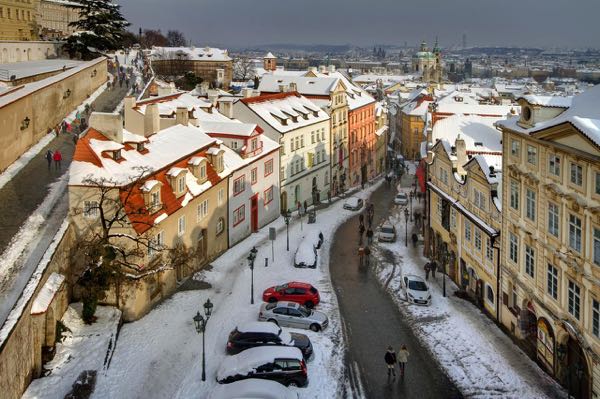 Hotel Golden Star is located in Nerudova Street in the historical center only a few steps from the Prague Castle Gate. Hotel rooms offer views of beautiful Lesser Town red roofs. There are many excellent restaurants with Czech cuisine and world-famous Czech beers as well as cafes with peaceful atmosphere in close vicinity of the hotel.
Details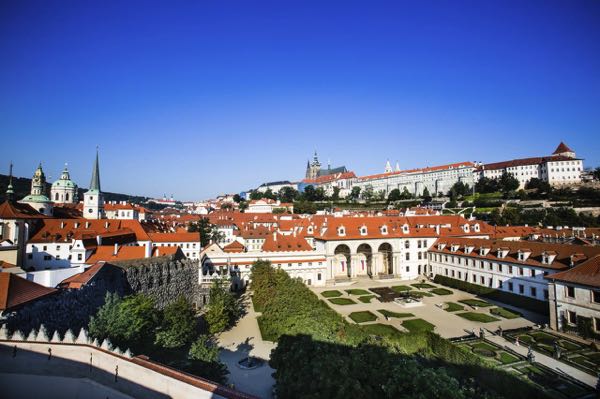 The building was built in the 19th century in Neo-Renaissance style and is located in the Prague historical heritage reserve, in Lesser quarter, which became a UNESCO historical heritage site in 1993. Lesser quarter is quiet and calm part of Prague right under the Castle and in Lesser quarter are placed many goverment bureaus and foreign Embassies. In the year 2007 and 2008 there have been implemented a major makeover into 5 stars hotel Royal Palace.
Details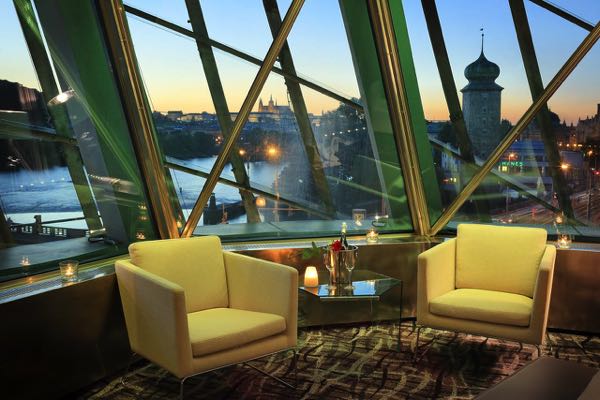 Building gained its name thanks to the towers that resemble famous figures of dancers, Ginger Rogers and Fred Astaire. A stone tower represents dancer and a glass tower his female partner. At the top of the tower symbolizing the dancer there is a dome with the construction of metal tubes coated with stainless steel mesh-work. The dome is shrouded in imaginary hair and symbolizes the head of jellyfish. Dancing House was opened in 1996 and the same year won the prestigious award of US magazine Time in the category of design of a year. Equally important is the factthat Czech National Bank allowed to portray Dancing House on commemorative coins as an example of present building for the cycle "Ten Centuries of Architecture".
Details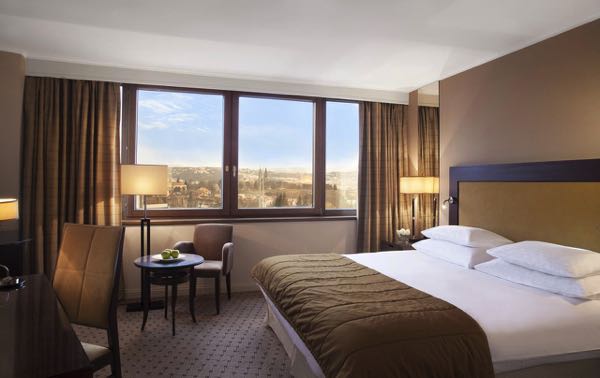 Only a short distance away from the city centre of Prague, this Corinthia Hotel is a landmark in itself, standing atop one of Prague's seven hills and offering outstanding views of the capital city. Inside our hotel you'll find the utmost comfort with our luxurious, spacious Rooms and Suites all featuring stunning views across the city. Whether you are feasting in one of our restaurants or relaxing at our award-winning spa, you will find everything has been meticulously crafted to ensure the perfect stay.
Details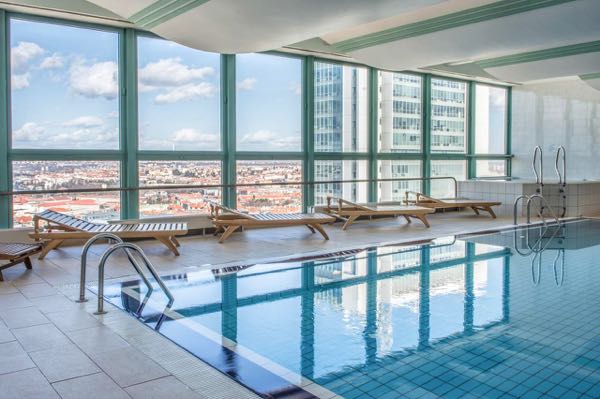 The Panorama Hotel Prague is ideally situated in a peaceful area, just outside the city centre. The Panorama Hotel Prague is particularly popular with guests demanding all the comfort and services of a first class international hotel while seeking excellent value for money. The Panorama Hotel Prague offers a range of comfortable rooms and suites providing a spacious retreat for all of our guests. Guests in certain Room/Suite categories also benefit from access to our Top Deck fitness and wellness centre and our Business Centre.
Details